Outcome Measurement System (OMS)
Updated February 8, 2021
The purpose of this page is to support Children's Advocacy Centers (CACs) in best practices to collect and use feedback through the Outcome Measurement System (OMS). The OMS program gives families and multidisciplinary team (MDT) members a voice in the CAC process by gathering feedback on satisfaction with procedures, as well as short-term and longer-term outcomes of the CAC/MDT model. Effective collection practices allow CACs to provide this opportunity broadly and efficiently, increasing the scope of the feedback to then use for program improvement purposes. Results are aggregated into local, state, regional, and national reports. When combined with other data sources, OMS gives a more complete picture of the work of CACs. Results can help to guide training and technical assistance on the areas of highest need based on feedback from families and professionals.


OMS is one of the most requested and widely used membership benefits provided by National Children's Alliance. Developed in Texas in 2009 and then offered by NCA to CACs in other states starting in 2012, its success demonstrates the growing need for a unified system for evaluating CACs on an individual, state, and national level. It provides the opportunity for each CAC to not only measure their own performance, but also benchmark themselves against the field. Hundreds of centers across all 50 states (and a growing number of international locations) have used OMS to give families and team members a voice in the CAC process, which in turn allows centers to demonstrate their success and find areas for improvement.
OMS allows CACs to report on survey items designed to capture two measurable outcomes:
1. The CAC facilitates healing for children and caregiver.
2. The MDT approach results in more collaborative and efficient case investigations.
NCA's Program Evaluation Coordinator, Kaitlin Lounsbury, joined the Center for Victim Research on their podcast series, Tell Us About It, to discuss the impact of the OMS program on Children's Advocacy Centers and the families and team members sharing their voices through this program. Listen to the podcast now.

OMS Training Webinars
OMS Winter 2021 Training Series

Contains 6 Component(s)

Includes a Live Web Event on 03/09/2021 at 2:00 PM (EST)

Learn to implement the OMS program at Children's Advocacy Centers, including the purpose and benefits of the program, recommendations for distributing surveys to families and team members, and ways to use OMS results for local, state, regional, and national initiatives.

OMS Resources
Public resources (members, non-members, and public)
OMS Brochure
This two-page brochure highlights how CACs use the OMS program to collect feedback from families and team members, and use results to demonstrate impact and continuously improve services.
Healing, Justice, and Trust Brief
This two-page brief highlights how the CAC model works, its successful outcomes, the momentum of our movement, and the need for continued and expanded support to CACs serving child victims of abuse.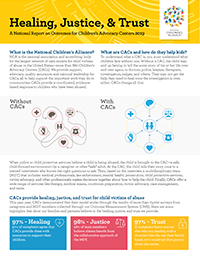 Looking for Training and Technical Support?
| Access Date | Quiz Result | Score | Actions |
| --- | --- | --- | --- |